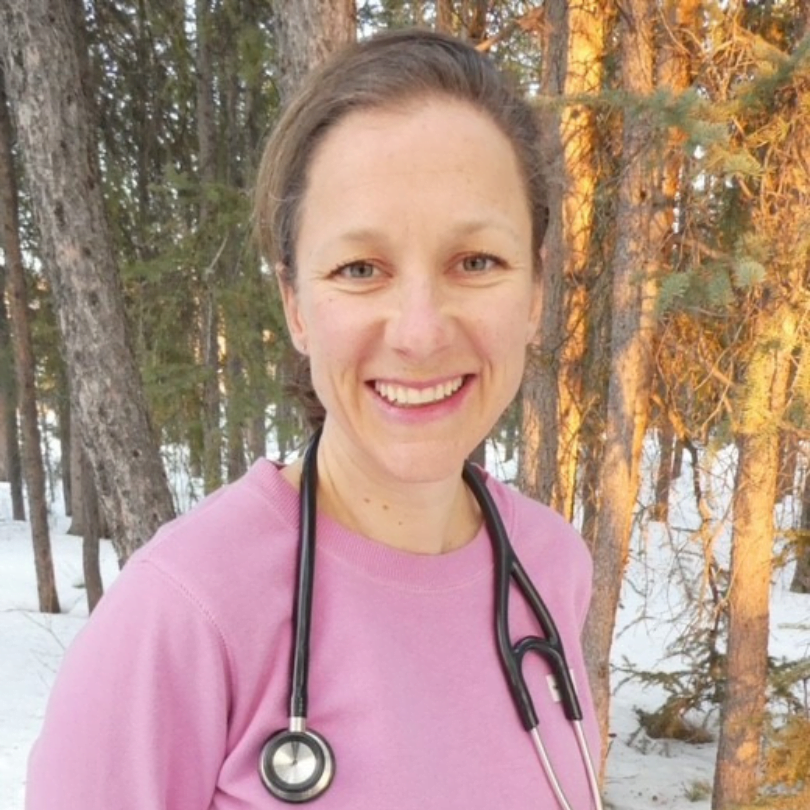 Get to Know CASEM's New Board Member: Dr. Anne-Marie LeBlanc
Dr. Anne-Marie LeBlanc joins us as one of two incoming board members in 2023. Get to know this Sport Medicine Physician from Whitehorse.
1. Why did you choose sport medicine?
I fell in love with sports med during my family medicine residency and felt like sports med was truly my "home" in medicine.  In fact, I noticed the sports medicine values were a great reflection of mine, such as an active and balanced lifestyle, discipline, motivation and energy. I loved the type of population we serve in sports medicine, feeling like I was actually able to engage patients in making changes in their lives since they are so much more motivated to get better at baseline. Finally, I found that our ability as sports doctors to "get out in the field" and practice medicine outside of four walls was quite liberating!
2. Why did you join the CASEM board?
I applied to become part of the CASEM board for a few reasons. First, I was encouraged by some peers to apply in order to better represent and give a "voice" to the francophone sports physicians of our organization (being a francophone myself), and also to represent the younger generation of sports doctors. Second, I have been on the CAWM board of directors for a few years now and this has really been a great challenge so far. I wanted to have the opportunity to serve the sports medicine community in Canada the same way I do for the wilderness medicine community, and help shape the future of sports medicine moving forward. Finally, I have noticed many challenges with making sports medicine recognized in the Yukon especially, and I felt like taking part on the CASEM board might help me become a better advocate for our specialty across Canada.
3. What is the greatest challenge sport medicine docs are facing today?
I think one of the biggest challenges of sports medicine is getting our specialty understood, valued and integrated into the system in order to serve the population better. In fact, I think we should be part of multidisciplinary teams more, integrated into primary care clinics perhaps, in order to make our services more accessible to anyone who needs it. I also think the term "sports medicine" is limiting in some ways, because a lot of what some of us do is also serve the growing ageing population and help with pain management; sometimes I wonder if we should rename our specialty to something like "sports, exercise and musculoskeletal medicine", so that patients feel more "welcome" to come see us, active or not so active as they might be.
4. What do sport medicine physicians do best?
We take time with our patients ! We explain things well, we are detailed and wholesome in our approach and I think patients love talking to us because they feel heard.
5. Provide one fun fact about you?
I started cold water dipping in the Yukon last summer, and I am now officially addicted! My new record is staying in for 6minutes in 3 degree water!
6. What do you do for physical activity?
I like to be outside as much as I can! I mountain bike, trail run, canoe, paddle board, cross country ski and hit the gym weights a few times a week to keep me from injuries (sometimes that works, not always!)
7. If you could meet any legendary athlete past or present, who would it be?
I would love to meet Sir Edmund Hillary so that he can tell me about his Antarctica crossing, the way they managed food intake, gear, cold, team morale and weight loss! I would also LOVE to meet Kilian Jornet; he seems to be such a down to earth athlete!
8. What is your favourite sport movie?
I loved the movie "Concussion" with Will Smith which I thought was really well made and an eye opener to concussion reality in general.
9. If you could be a professional athlete in any sport, which one would you choose and why?
I would be a professional trail runner like Kilian Jornet, because to me, running in the mountains is probably the easiest and most contemplative way of feeling free and in awe outside.
10. What is your favourite outdoor activity to participate in?
Anything that involves an expedition for multiple days, in autonomy, in nature. Be it hiking, backcountry skiing, biking, canoeing, fatbiking, anything! I love the technical aspect of managing your food, water sources, camping, animals, technique, etc! I also think it's the best way to disconnect from society and recharge batteries.
11. What's one new thing you have learned in the last week?
I have learned that I can stay in cold water for much longer than I think, and that everytime I feel amazing after.
12. What are you currently reading?
Greelights, by Matthew McConaughey. It's really funny and light, but deep and philosophical at the same time! Next one after this will be "Fast like a girl" by Dr Mindy Pelz.
–
Continue reading: