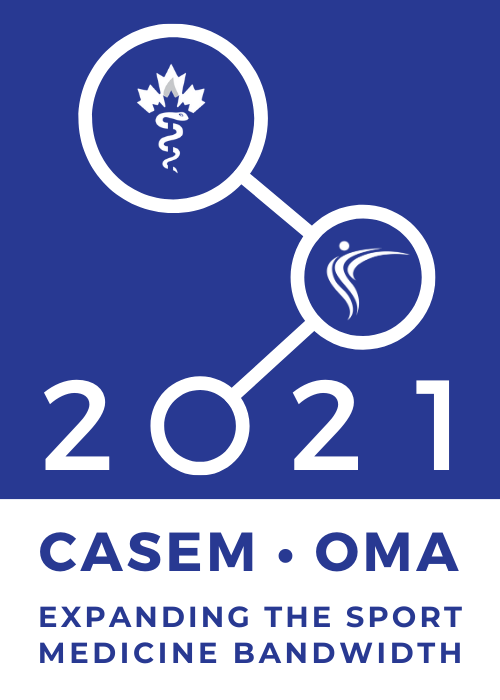 Thank you for joining CASEM & OMA for the 2021 Virtual Symposium
The CASEM OMA Sport Medicine Annual Symposium, held virtually in 2021, ran successfully from May 13 to 15.
Closing remark from Dr. Lee Schofield, CASEM OMA Organizing Committee Member:
I would like to thank our symposium organizing committee and the representation that we had from both the OMA & CASEM- Lindsay Bradley, David Lawrence, Amandev Aulakh, Wade Elliott, Andy Marshall and myself. With this being our first virtual symposium, we were not clear of the opportunities and challenges that might come up, but it has been navigated so well with the work behind the scenes of NEXTECH and their staff. Thank you to all of the speakers that took the time to present on their areas of work, personal or professional interest and embracing the new technology components. Finally, we could not have put this program together and made it run seamlessly without the 150% commitment and dedication of our CASEM staff- Helen, Dawn, Rebecca and Lindsay. We hope that we can continue to integrate some of this technology into future conferences given the success this year, but also have the chance to meet IN PERSON in Quebec city for the 2022 CASEM symposium and in Toronto for 2022 OMA Sport Med.
Closing remark from Dr. Margaret Burghardt, CASEM President:
The CASEM and OMA Sport and Exercise Medicine section Organizing Committee deserve a STANDING OVATION for an outstanding delivery of the Symposium: 'Expanding the Sports Medicine Bandwidth'; expanding our knowledge with an array of amazing national and international speakers.

Special THANKS to CASEM Head office staff and NexTech AR for a seamless delivery platform and delegate experience!

We hope to see everyone in person next year: April '22 in Quebec City!
Finish off the symposium by joining us for a Virtual Fun Run with all proceeds going to Spirit North, an organization that empowers Indigenous youth to be unstoppable in sport, school and life, through the transformative power of sport and play.
Thank you for the kind words and support throughout the conference and 2021!
We hope to see you in Quebec City in 2022!
Words from Dr. Ira Smith:

Just wanted to reach out to say you and your team have once again done an amazing job! Always making the best of any situation. The CASEM conference always rekindles my enthusiasm for what we do every day and you help make it great – even virtually. Hope to see everyone in Quebec.