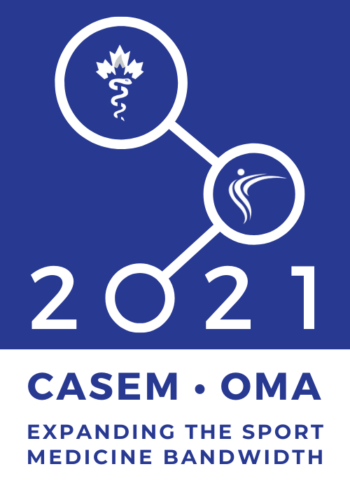 Call for Research Abtracts – CASEM/OMA 2021
We're going virtual for 2021! 
For the health and safety of all our members, CASEM and OMA have decided to provide the same great content you've come to expect from our annual symposium virtually!
Notre congrès sera virtuel pour l'année 2021! 13-15 mai 2021
Pour la santé et la sécurité de tous, l'ACMSE et l'OMA ont décidé de vous offrir le même contenu que vous vous attendez de notre congrès virtuellement cette année!
Please note that the Call for Research Abstracts for the upcoming CASEM / OMA Sport Med section Sport Medicine Conference being held virtually, May 13 – May 15, 2021 is now open!
The deadline for submissions is 10 January, 2021.
Please see below for the submission guidelines.
S'il vous plaît noter que l'appel de résumés pour le prochain congrès ACMSE / OMA Sport Med section , qui se tiendra virtuellement du 13 mai au 15 mai, 2021 est maintenant ouvert!  
La date limite est le 10 janvier 2021. 
Notez que les projets ou les affiches/posters seront seulement accepté en anglais pour 2021. S.V.P. voir ci-dessous pour les directives.