MSK Upper limb ultrasound guided injections Course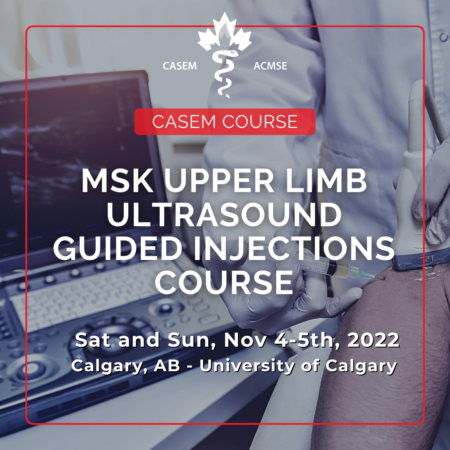 CASEM is back with the Advanced MSK Ultrasound Course with focus on ultrasound guided injections of the upper limbs.
The course will be held in Calgary on Saturday and Sunday, November 5-6th, 2022 and will be hosted by the University of Calgary Advanced Technical Skills Simulation Laboratory (ATSSL) organized locally by Dr. Victor Lun.
The course includes lectures, live demonstrations and cadaver lab workshop sessions. An international Faculty, led by Dr. Jon Halperin,  will work with a small participant group to ensure maximum learning.
This course is limited to 40 participants.
**Please note that this course is intended for those who have already completed the CASEM MSK Basic Ultrasound Course (Upper or Lower Limb)