CASEM Cycling Sport Medicine Conference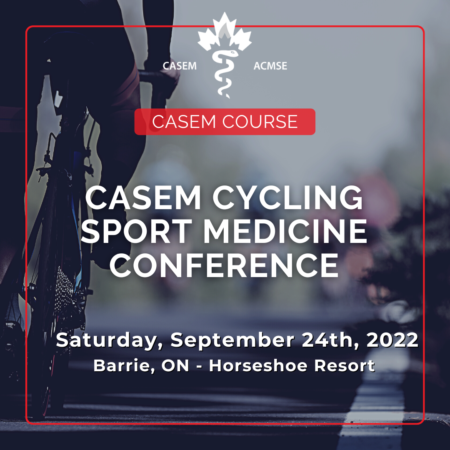 CASEM Cycling Injuries, Illness & Performance Conference
September 24th, 2022 – Horseshoe Resort – Barrie, ON
CASEM is excited to bring back this sport-focussed, sport medicine CPD event to be held in the heart of the Horseshoe valley region of Ontario.
Chaired by Dr. Wade Elliott, Chief Medical Officer for Cycling Canada and his Faculty, this one day conference which will cover all aspects of cycling injuries, diagnosis, injury prevention and management across road, mountain and track cycling in both abled bodied and adaptive cycling.
The CASEM CPD curriculum is targeted to physicians in sport medicine, yet includes information pertinent to other specialties – we also welcome attendance from our allied health partners as we look at a multi-disciplinary approach to the care of the cyclist.