Creating a Career in Sport and Exercise Medicine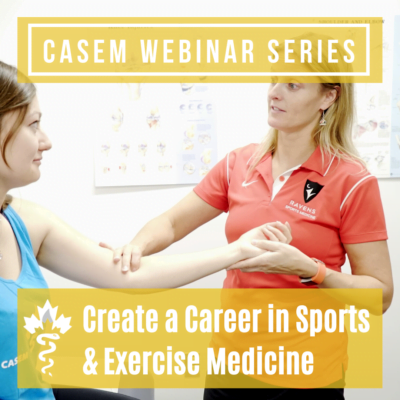 A new academic year is underway and if you are thinking of pursuing a career in the sport and exercise medicine field, this webinar will help answer many questions you may have. 
Date and Time: 8th of October 2020 at 12:30pm EST / 9:30am PST
Location: Online via Zoom Webinars
We will profile, through individual physician presentations, the 3 routes to working towards a career in SEM and profile a day in the life of a SEM doc from clinic work to working at the Olympics to travelling with teams.
Dr. Darrell Menard, a primary care sport medicine physician, will detail his journey through the practice eligible route to his current SEM practice in Russell, Ontario and the many sport medicine adventures he has undertaken along the way!
Dr. Lindsay Bradley, Fellowship Director for the University of Ottawa PGY3 SEM Program, will present on what a PGY3 year in SEM looks like and will touch upon her own journey through her SEM Fellowship in primary care sport medicine;
Dr. Erika Persson, an Edmonton pediatric sport medicine physician, will touch upon her own journey through specialty medicine, to become one of only a handful of Canada's dedicated pediatric sport medicine physicians.
Sports medicine is a growing clinical specialty, which has branched out considerably from its original work with elite athletes. In recent years, as new athlete populations have emerged, sports medicine doctors have become sub-specialized in areas such as concussion, exercise and pregnancy, adaptive sport medicine, pediatric sport medicine, endurance sports and much more.
Register for the webinar here: https://us02web.zoom.us/webinar/register/WN_kPiZOgSeTm2eru0cDAtYFQ