CASEM CPD 2022 Subscription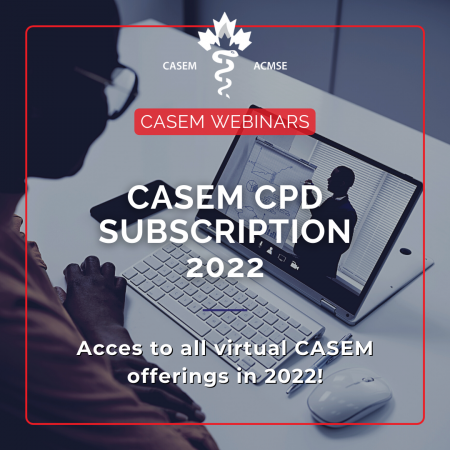 CPD 2022 Annual Subscription Pass
In 2022, CASEM is once again offering its members a one payment yearly pass for all CASEM's CPD virtual modules.  For $375, an Active Member has access to all virtual CPD that CASEM will host in 2022 (Annual Meeting excepted) including a minimum of 4 accredited modules and one-off webinars (a minimum of 24 Credits) that will be spread throughout the year on a variety of key sport medicine topics.
Each module will comprise of 3-4 weekly evening sessions of 90-120 minutes given Thursday evenings.  ALL modules will be accredited.
Modules planned for this year include:
•New! OA in Sport Medicine Webinar Series (begins March 24th)
•New! Mental Health in Sport Medicine Webinar Series
•New! Dance Medicine & Performing Arts Webinar Series
•CASEM Para & Adaptive Sport Medicine Webinar
Upcoming single day webinars:
•New! CASEM and International Society for Sports Psychiatry present
Sport-Related Concussion and Mental Health Webinar
With one click and one payment, you will have access to all CASEM virtual CPD. NOTE: The CASEM annual scientific meeting and in-person courses are not part of this CPD virtual package.