CASEM CPD 2021 Subscription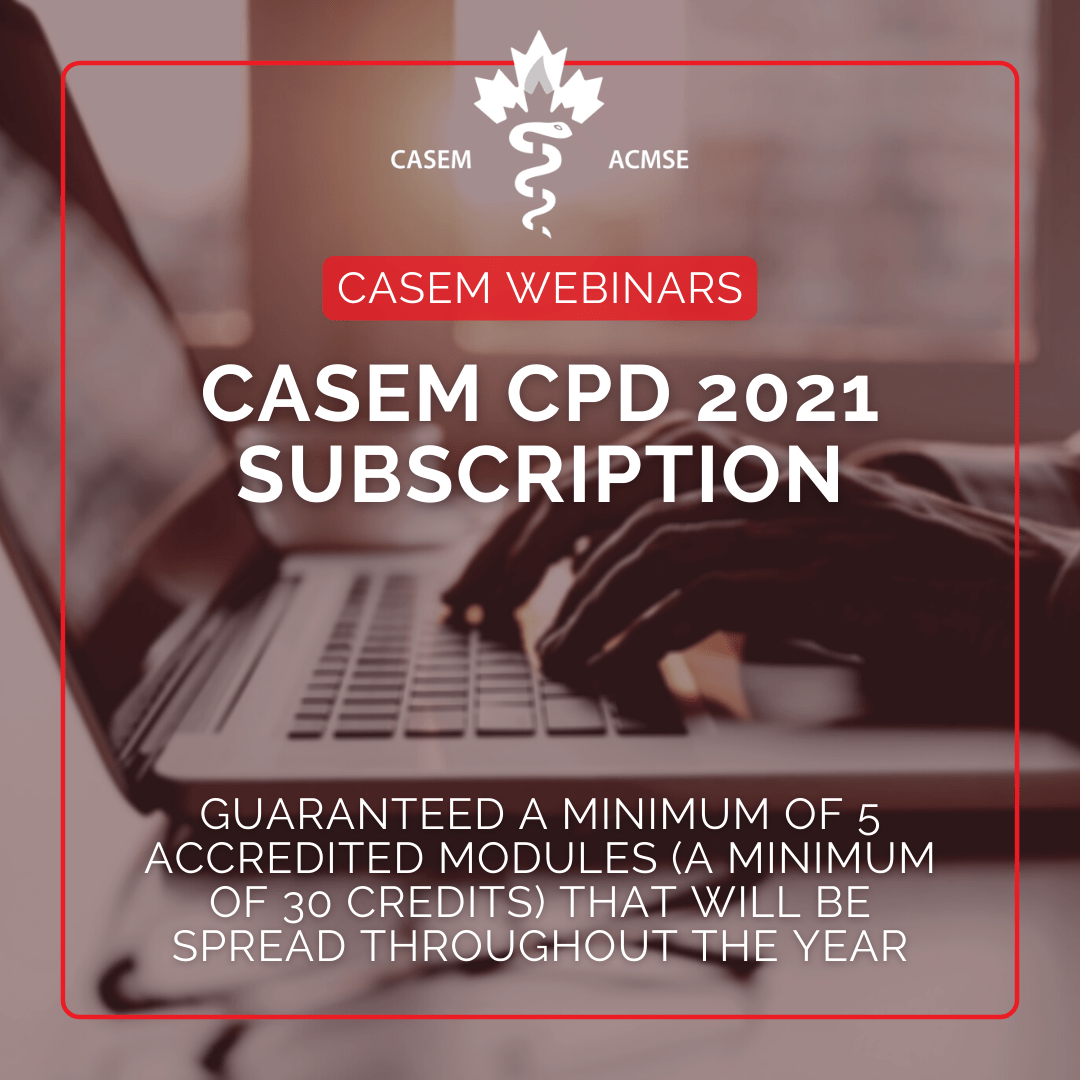 New this year!!  In 2021 CASEM is offering its members a one payment pass for all CASEM's CPD virtual modules for the year.  For $350, an Active Member has access to ALL virtual CPD that CASEM will host in 2021 (Annual Meeting excepted) – we guarantee a minimum of 5 accredited modules (a minimum of 30 Credits) that will be spread throughout the year.  These include:
Starting February 18th – Winter Endurance Sport Medicine (4 sessions) – (Chair: Dr. Richard Trenholm)

This webinar series will focus on how to identify effective interventions to prevent, treat and rehabilitate common injuries from winter endurance sports in endurance athletes as well as address prevention, training and return to play issues including nutritional and physical realms in the endurance athlete.
Starting April 8th – Medicine through Movement II (4 sessions) (Chair: Dr. Tatiana Jevremovic)

Following on from the success of the 2019 conference, CASEM will run a 4-session, series which will focus on the health enhancing benefits of activity and movement across a range of specialty medicine and will look at the cardiac, diabetic, geriatric and auto-immune patient as well as the physician's own health and wellbeing.

Starting May 28th – Pediatric Sport Medicine (3 sessions) (Chair: Dr. Laura Purcell)

This series is designed as an introduction to pediatric sport medicine, and will cover many aspects of caring for youth athletes and active pediatric patients. At the end of the day, participants will understand the unique aspects of pediatric aged athletes, including factors influencing treatment, return to play and injury prevention and become more familiar and comfortable with recognizing and managing common injuries in the growing athlete.

Starting September 2021 – Return to USports  (Chairs: Drs. Andrew Marshall and Taryn Taylor)

Will cover the sport medicine injuries commonly seen in university sports (Football, Hockey, Baseball, Rugby/Soccer, etc.)

Starting October 2021 – The Management of Osteoarthritis (Chair: Dr. Andrew Marshall)

This series will identify non-operative and surgical treatment options for the management of osteoarthritis, strengthen the clinical skills of  primary care practitioners and enhance the knowledge of health care providers in a sport medicine approach to osteoarthritis
Each module will comprise of 3-4 weekly evening sessions of 90 minutes given Thursday evenings.  ALL modules will be accredited.  With one click and one payment, you will be automatically registered for all CASEM virtual CPD.  NOTE: The CASEM annual scientific meeting is not part of this CPD virtual package.