CASEM's Updated Remuneration Guidelines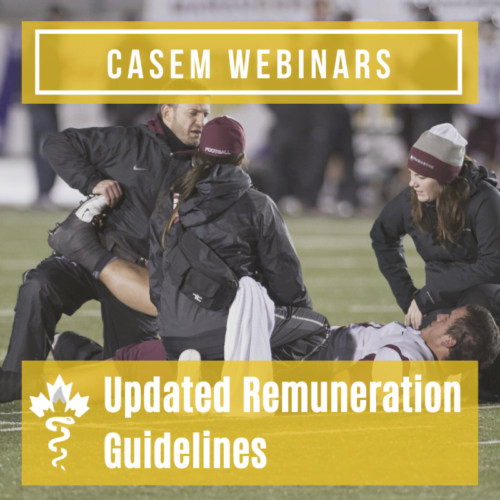 Location: This webinar will be presented virtually via Zoom Webinars
Date: Thursday, December 3rd 2020
Please join a panel of your CASEM colleagues, Drs. Cathy Campbell, Marni Wesner, Steve Keeler, Paddy McCluskey, Robert McCormack and Tina Atkinson on this webinar, December 3rd at 8pm EST / 5pm PST to discuss the recently published "Guideline for Physician Remuneration" position paper. This document builds upon previous CASEM resources and incorporates data compiled from a recent CASEM survey which many of you have kindly completed.
The purpose of this guideline is to assist CASEM members with highlighting the value of sport & exercise medicine physician team and event-related services, updating the remuneration value of such services, and to increase the high-performance sport system awareness of the value a sport & exercise medicine physician can bring to sport organizations, athletes, coaches and support staff. Consistent implementation of these guidelines will help increase the sport community's awareness of the value of expert medical services, and thereby increase the number of physician reimbursement opportunities.
The webinar's intent is to present the highlights of this important document, summarize the recent survey data, and introduce the new contract template that can be used to assist sport medicine physicians in their financial arrangements.
Agenda:
8.00pm Welcome and Introduction – Dr. Cathy Campbell
8.15pm Collecting the Data- Membership Survey – Drs. Steve Keeler and Marni Wesner
8.35pm Summary of Position Statement – Drs. Paddy McCluskey and Robert McCormack
8.55pm Contractor Agreement Template – Drs. Tina Atkinson and Cole Beavis
9.10pm Questions