CASEM Winter Endurance Sport Medicine Series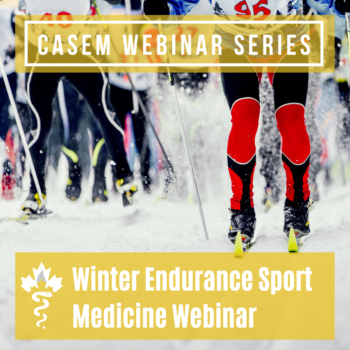 When
Join us Thursdays at 8pm EST /5pm PST
Duration 
This webinar series will consist of 4 sessions, each lasting about 90mins with 3 speakers each presenting a 25min topic. To claim your Mainpro+ credits, you must attend all 4 sessions.
How 
Via Zoom webinars, once registered through the CASEM website, you will receive an email with the zoom registration link
Course Objectives and Agenda
At the end of the workshop, the learner will be able to:
• Identify effective interventions to prevent, treat and rehabilitate common injuries from winter endurance events in athletes through a series of lectures
• Have a plan to deal with prevention, training and return to play issues including nutritional and physical realms for the winter endurance athlete.
February 18th 2021
Running Injuries
Shoes and Biomechanics
Elements of Gait Analysis
Cardiac Issues in Endurance Athletes
February 25th 2021
The Aging Athlete
Athlete Experience
The Aging Runner—Assessment and Treatment of their Unique Disorders
Endurance Sports in the OA Patient
Pelvic Floor and the Endurance Athlete
March 4th 2021
Winter Endurance Sports
Challenges of Preparing for Winter Paralympics 2022
Cardiorespiratory Considerations in Cold Weather Training
Fat Biking
Hypothermia and Frostbite
March 11th 2021
Training for a New Season and New Realities
Gait Retraining
Strength – Core Stability
Strength Training in the Endurance Athlete