CASEM Basic Team Physician Development Course Webinar Series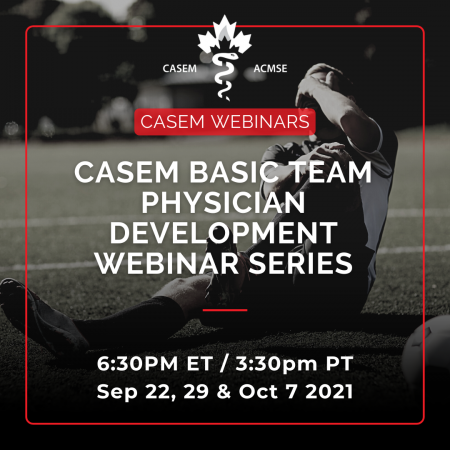 The goal of the course is to prepare physicians to provide medical care to athletes. The target audience is a physician of any specialty, with our without their CASEM diploma, who wishes to develop and enhance their knowledge of and skill in the care of the athlete and the role of the team physician. This course may also be of interest to allied health professionals who are involved with the care of the athlete of sports teams.
When
Join us for this 3 session webinar series September 22, 29 and October 7, 2021 from 6:30pm-10:00pm ET/ 3:30pm-7:00pm PT !
Duration
This webinar series will consist of 3 sessions, each starting at 6:30pm ET / 3:30pm PT and finishing around 10:00pm ET / 7:00pm PT.  To claim CFPC Mainpro+ credits you must attend the live sessions.
How
Via Zoom webinars, once registered through the CASEM website, you will receive an email confirmation and a zoom link will be sent closer to the start date.
Cost
The cost for CASEM members is $275 ( please note this course is NOT included in the 5 module CPD subscription)
Course Objectives
To address the key components of sport medicine skills in a practical case based approach within realistic scenarios.
To deliver the course content in an interactive learning format that integrates the principles of adult education with updated teaching technology.
To ensure that excellent quality faculty are selected which offer leadership, mentoring and gold standard principles of care.
Accreditation
You must attend all three zoom sessions to receive a certificate of attendance.
This one-credit-per-hour Group Learning program has been certified by the College of Family Physicians of Canada and the Ontario Chapter for up to 10.5 Mainpro+® credits.